Amplid Snowboards - Here for the big ideas & cutting edge technologies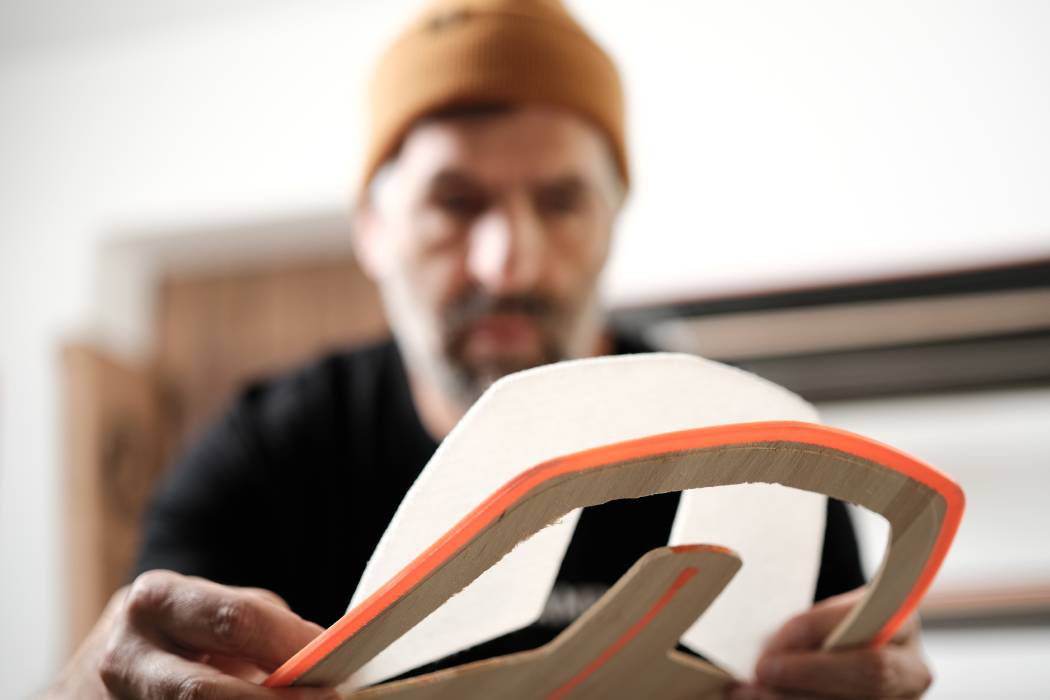 Some of this year's most anticipated boards have arrived in store. If you haven't heard of Amplid before, let me tell you about this little known German company and the man behind some of the most technologically advanced and revolutionary snowboards on the market today.
During his career as a professional snowboarder, Amplid founder and CEO Peter Bauer, was German Champion 11 times, European Champion five times, World Champion four times and vice World Champion in the combined event (halfpipe, moguls, slalom and downhill). Racing also allowed Peter to freeride all over the world: From first descents in Valdez and Atlin to impossible lines off the back of Chamonix, Peter Bauer was one of freeriding's true pioneers. He also spent 16 years at Burton where he was heavily involved with developing and testing some of the most revolutionary snowboards of the late 80s and 90s. He realised that his ideas for designs didn't quite align, he wanted to make snowboards with character, so in 2004 he set up Amplid and began creating the snowboards he'd always dreamed of riding.
Peter's vision for Amplid was and still is today, a brand that is responsible for the important designs, big ideas and cutting-edge technologies which will shape the future of freeriding hard goods. Amplid's single-minded mission is to give its customers the confidence to reach the next level.
There are many things that set Amplid apart from the crowd, but one of the most impressive is their appetite for innovation. Peter and Amplid have been at the forefront of snowboard tech for years, with ideas like Antiphase vibration dampening, Visco Damp, Stratospheric snow repellance and Knuckle sandwich durable construction all coming from Amplid HQ.
Amplid offers over two dozen models of Snowboards, Splitboards and Bindings. Each model falls into a category designed for different purposes which allows customers to select the perfect board for their specific needs and riding style.
THE SINGULAR SERIES: Winning the Whitelines 100 "best all mountain snowboard" is no easy task. Let alone winning it the first year that board was released. But that is exactly what the Amplid Singular achieved at the end off 2022. With the new and revolutionary Singular Series, Amplid have created the real "Swiss army knife" for the true all mountain performance, the perfect one-board-quiver – simply the one-for-all snowboard. Available in a directional and twin version (FYI: Every length comes in a different colour!).
THE CENTRIFUGAL COLLECTION: A turbocharged brotherhood of speed-hungry hot rods for carving-up the mountain. The Centrifugal Collection of snowboards combine Amplid's most advanced technologies and construction with dialled-in geometries and potent cambers.
THE TICKET SERIES: Taking the popular and award-winning shape of the Paradigma and the Stereo, Amplid subtly dialled back the specs to create the new all-mountain dominators with timeless graphics that won't break the bank.
THE FUTURE SHAPES: An intriguing and constantly growing family of experimental, unique riding snowboards designed to bring new sensations to enjoy turns on fresh piste or in deep pow. Oversize widths and wacky shaping make these backcountry shreds surfy and playful beyond your wildest dreams.
SPLITBOARDS: Always charging ahead at blistering pace, Amplid's split collection is synonymous with pioneering design. Ascend effortlessly with the featherweight Milligram or tally season-after-season with the burly Tour Operator, it's an offering with something for everyone.
You can find all of Amplid's 2023 Snowboards, Splitboards and Bindings available on the website here or come in and check them out in store and have a chat to one of our legendary staff about what it is like to ride one of these masterpieces.