How to Pick the Perfect Surf Cozzie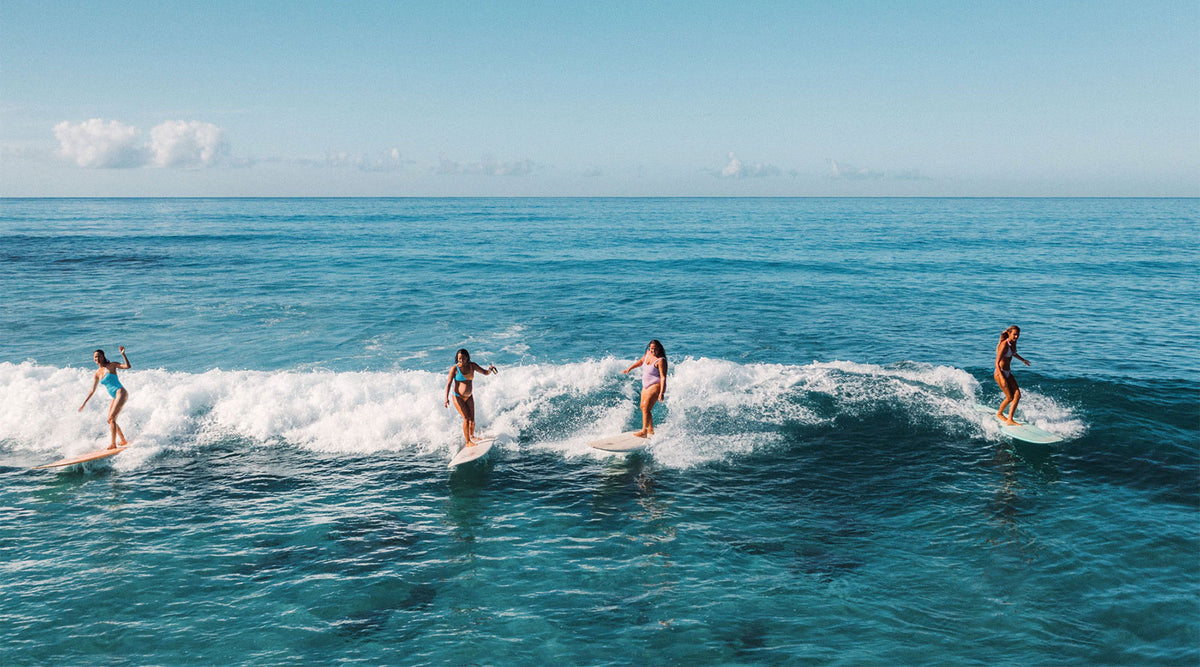 We've all been there. You've come off a wave, you're finding the surface to take a breath, your board is…somewhere, you check to see if another wave is coming before getting back on your board, and having to paddle your heart out to get back into the line up, the last thing you want to be worrying about is whether you're falling out of your cozzie (we've all been there). 
When searching for the perfect surf cozzie it's not enough to think about how good you look (which you do) we've also got to think practically, is everything going to 'stay in'? Does it have sun protection? Is it comfortable (especially when paddling and sitting)? Is it durable and going to last? We have gone down this road many times before so can share some helpful tips on how to pick the surf cozzie that's right for YOU.

First things first. Are you a one-piece or a two-piece person? We've all got a preference, and just because you think one may work better, doesn't always necessarily mean it will, hello different body types. Choose what you are more comfortable with. With the options of one-pieces, long sleeve surf suits, long sleeved tops, high waisted bikini bottoms and more sports like bikini tops, you've got all the options in the world to find what you feel most comfortable in. 

Secondly, functionality. Remember that you are not laying on a beach in this, you will be surfing, so when trying it on, move. Don't be shy, paddle your arms, lift your knees, squat down low, twist your body. The last thing you want to worry about is whether a cheeky nip slip is happening, or if anything else is being revealed, so really move when you're trying it on, that way you don't have to worry when you're out in the waves.

Another thing to consider in functionality is comfort, is having a zipper down the centre of your chest comfortable for you when you're laying and paddling on a board? Is a one piece going to spend the whole time riding up? Is a bikini top going to come undone in the surf? All questions to ask yourself when you're in the change room sizing up what you think will best serve you. Pro Tip: a reminder that if cozzie bottoms are too small (in either a one or two piece), you will be hyper aware of it while paddling and sitting on a board.

Thirdly, sun protection. Whether you're a Brazilian bikini wearing babe, or more of a covered-from-top-to-bottom kind of gal, sun protection is something to think about. When picking your surf cozzie remember that a lot of the time the back of your body will be in the sun, so if you don't have someone who can sunscreen that hard-to-reach spot on your back maybe getting a cozzie that covers your back is a better choice. If you're someone who doesn't like tan lines, maybe something with long sleeves is for you. If you love the sun on your skin, then hit that bikini girl (but wear ocean safe sunscreen when you do).
Lastly, is it durable and going to last. Let's face it, a lot of the time ladies swimwear is made from delicate materials, and well, when your surfing, it's not exactly a delicate time. Every time you wear this swimsuit you're going to be laying on a board that's covered in wax, in the sun and in salt water. It's going to need to withstand not just the thrashing of the elements but being well worn sportswear. Make sure your cozzie material is up to the challenge.


Ultimately, when you're out in the surf you want to be more focused on having fun and getting waves than worrying about your swimwear. Having a bit of forethought and consideration goes a long way in making sure you get the best out of the surf, and that includes what you're wearing.